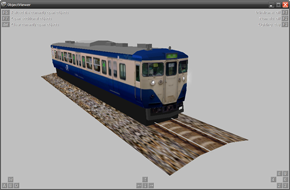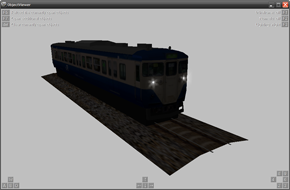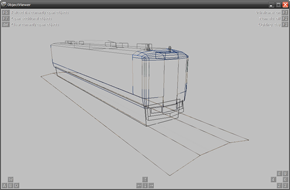 ■ 概要
このツールはひとつ、もしくは複数のオブジェクトファイルをプレビューできます。 オブジェクトはいつでも好きなときに追加して表示でき、 またいつでも素早く再読み込みで反映することができます。 キーボードやマウスの操作でカメラの移動や回転ができます。もしオブジェクトにエラーがあった場合、別途レポートを表示できます。
コマンドライン引数により渡されたファイルは、起動時に自動で表示されます。 もし CSV ファイルがCSVオブジェクトではなくCSVルートの場合、 RouteViewer.exe が
ObjectViewer.exe と同一のフォルダに存在する場合優先して実行されます。 これによりObject Viewer と Route Viewerいずれか一つだけに関連付けをしたとしても、適切なツールでファイルを開くことができます。
バイトオーダーマーク (BOM) が異なるUnicodeエンコーディングが示されない限り、Object Viewerは常にUTF-8として解釈することに注意してください。非Unicodeのエンコーディングはサポートされません。
サポートされるオブジェクトファイルのフォーマット:
このツールではプラグインAPIの表示はサポートされていません。これは組み込みのテクスチャフォーマット (BMP, PNG, GIF, JPG, TIF) のみサポートすることを意味します。
■ Changelog
Please also see the changelog of the main program.
● Version 1.4.4.0 (2016-01-30)
Added support for antialiasing and anisotropic filtering.
Added support for different window sizes.
● Version 1.3.2.0 (2011-11-30)
Added support for managed content package references.
● Version 1.2.11.0 (2011-01-07)
The file system organization has changed along with the openBVE main program. Object Viewer accepts the /filesystem=FILE switch.
● Version 1.2.7.2 (2010-07-31)
Animated objects were not updated immediately after loading or reloading objects, but only after RefreshRate seconds had passed.
● Version 1.2.7.1 (2010-07-28)
Some animated objects using state changes could crash the program due to a faulty renderer.
● Version 1.2.7.0 (2010-07-11)
Different background colors can now be cycled through using the [B] key. Pressing [Shift+B] allows to select arbitrary colors via a picker.
● Version 1.2.6.0 (2010-03-14)
If a CSV file is passed as a command-line argument, Route Viewer is started if the file is determined to be a CSV route instead of a CSV object. The detection is now solely based on the presence of the CreateMeshBuilder string.
● Version 1.2.5.0 (2010-01-24)
Removed the dependency on specific versions of the Tao.OpenAL, Tao.OpenGL and Tao.SDL libraries, which could cause problems in recent Linux distributions.
● Version 1.1.0.0 (2009-06-28)
Animated objects are now supported.
● Version 1.0.7.1 (2009-06-14)
Support for custom normals in AddVertex (CSV) and Vertex (RW) commands.
Support for the Shear and ShearAll commands.
As for responsiveness, complex objects are not optimized any longer in order to improve loading times.
● Version 1.0.4.0 (2009-04-26)
Added options to show coordinate system grid and to hide interface
Changed some key assignments to be more memorable